International Friendships, Inc. seeks to "extend life-changing hospitality and friendship to international students out of reverence for Jesus."  Our vision is to see "God's love extended globally in partnership with spiritually vibrant international students".  As we work toward achieving our objective, we desire to partner with local churches and individuals with similar missions.
IFI plans events at the start of the academic year to welcome students and scholars as they arrive from all over the world.
Let IFI Cincy assist you in mobilizing your church to welcome the nations to Cincinnati, Ohio.
Diverse Serving Opportunities
Whether your church is heavily involved with international ministry or they are just getting started,
there are opportunities for everyone to:

Explore
Explore International Student Ministry by volunteering at a Welcome Event.
After you've gotten a taste, consider becoming a registered IFI Cincy volunteer.
Engage
Are you already a registered IFI Cincy volunteer?
Engage incoming students by serving at this summer's Welcome Events.
Lead
Do you want to take on a leadership role this summer? We need you!
Sign up to lead other volunteers at a Welcome Event this summer.
Plan
Would you like to assist in planning and preparing for the upcoming Welcome Events? We have a role for you!
Join the planning team of any Welcome Event below.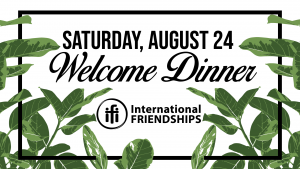 Welcome and connect with new international students to Cincinnati.
In 2018, 193 students signed up for the Welcome Dinner.
Volunteers & staff are still involved in those students' lives.
Saturday, August 24, 2019
Are you interested in a planning or leadership role?
Click Learn More to see all of our current leadership opportunities.