Leadership for Success Seminar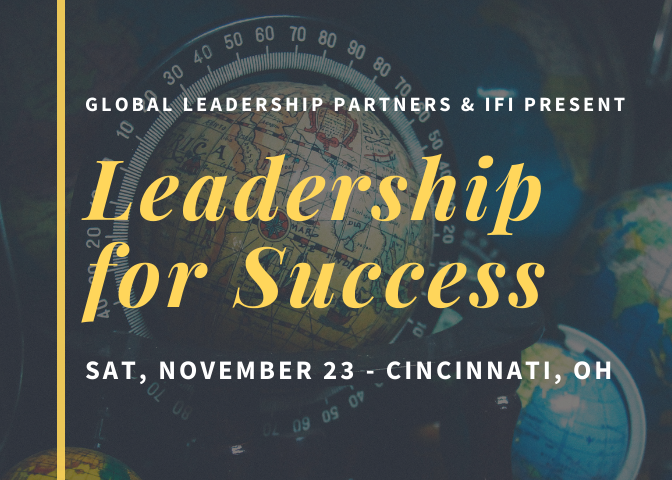 Date/Time
23 Nov 2019
9:00 am - 1:30 pm
Location
Faith Bible Church, 8130 East Kemper Road, Cincinnati, Ohio
Map Unavailable
✽ What does "success" really mean?
✽ How can you achieve success?
✽ What are characteristics of the best leaders?
✽ How can you inspire others to follow your vision?
This engaging, highly interactive seminar is presented by Global Leadership Partners, who offer world-class leadership training in more than 20 countries. Speakers use their rich executive experience to give practical advice on applying leadership principles.
Volunteer Role
Volunteering for this event provides you with a unique opportunity to connect with international students and scholars around the themes of success and purpose. Your first responsibility may be to pick up Participants from their homes (in the UC area), transport them to Faith Bible Church, and take them home after the event.
At the end of the seminar, students will be invited to sign up for a Triad Mentoring Session. This will take place within the two weeks following this event, at the availability of those involved. A "triad" consists of a Participant (international student/scholar), a Mentor (a representative of GLP), and a Follow-Up Coach (you, the IFI Volunteer). This Triad Mentoring Session will be facilitated entirely by the Mentor. You may be asked to say something about IFI Cincinnati, and perhaps a short introduction of yourself and how both relate to the Leadership for Success Seminar.
For more information about Triad Mentoring Sessions, click here.
Whether or not students desire to participate in a Triad Mentoring Session, feel free to initiate having a cup of coffee together, or having them over for dinner, etc. This is a great way to connect organically with an international Friendship Partner.
More Information
Speakers:
Todd Geist
Founder of Global Leadership Partners
Dave Murphy
Insurance Executive, Speaker, Coach, Writer
To learn more about GLP, go to GlobalLeadershipPartners.org.
Location
Faith Bible Church
8130 East Kemper Road
Cincinnati, Ohio
Lunch will be provided from 12:35-1:30 PM.